I've had my fit bit for a while now, so it's time that I review it.
What is a FitBit (Flex)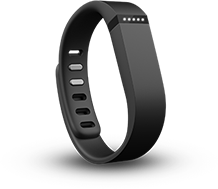 Fitbit is a fitness device that tracks how many steps you take each day.  It will also tell you the distance you cover each day. Not only that but it is smart enough to know how many calories you burn each day.
The Flex & The One models also track your sleep efficiency.
Fitbit is a fun fitness device that really helps you move more, and stay accountable to your goals.
Pros
The flex comes with an adjustable band
It's lightweight
Has a sightly alarm
Easy to use
Clean user-friendly website & mobile app
Calorie burn is accurate
Cons
(Flex) doesn't tell the time
Doesn't tell you how many steps you have taken (only gives you a goal progression)
Doesn't calculate elevation (The One does, however)
Only comes in black & slate (in Australia)
Overall Thoughts
The main reason why I purchased the Fitbit was because of its ability to track how you sleep. That alone had me sold on the product.
I was sleeping pretty ordinary, and I wanted to know why.
I was amazed at how poorly I was sleeping. Lots of tossing and turning. However a change in diet (Whole30), dramatically changed my sleeping habits, and I found that I had more solid sleeping chunks.
Overall I'm very happy with my Fitbit as my pros outweigh the cons.
I'm amazed at how little I move each day (in my current lifestyle).  If I didn't do regular exercise (running) then I wouldn't make my daily goal of 8km | 5mi. The Fitbit really encourages you to move more and to be more active.
If you are looking to lose weight, and love gadgets then the Fitbit is for you.  It's reasonably priced at $120 (compared to other devices at $200 and upwards), and really easy to use.
For more information or to purchase the product go here.
Disclaimer: I was not asked to purchase or review this product.  All thoughts and opinions (good or bad) are my own.
Footnotes
1 – From personal experience, I have found the calorie burn accurate.  I have worn my heart rate monitor while running and the calorie burn that I've gotten from the Fitbit compared to the Garmin is pretty spot on, with accuracy being only approx 10-20cals out.